Posted by Crescent Moon on Jan 11th 2021
There is nothing better than a day on the ice doing what you love. Ice fishing is an activity that many who live in the colder climates enjoy and can be easy to do with just some basic equipment. If you have an ice fishing rod and reel and a way to cut a hole in the ice, you can fish. Now, most ice fishermen have gear that helps make it easier and, some might say, more enjoyable. From a lightweight auger to an insulated fish house with a heater and cold weather suits with floatation built-in, you can imagine it is less brutal when you have the right equipment. One newer piece of gear that a fisherman might consider, especially for early ice when you can't drive or ride ATV's on the ice, is a pair of foam snowshoes. However, in this blog, we will make the argument that foam snowshoes should be a part of your gear all season long.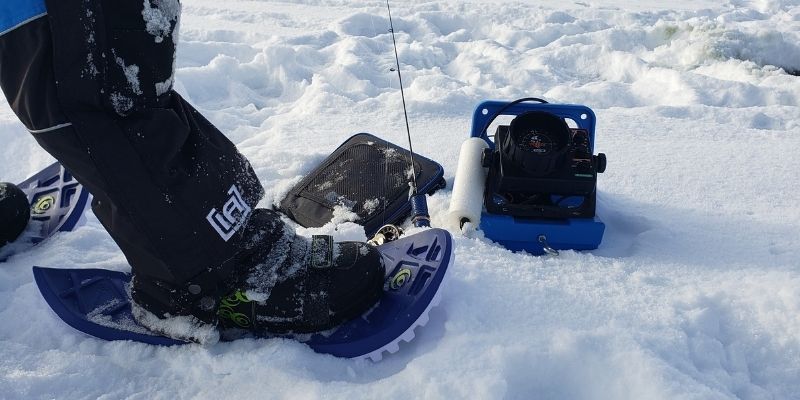 Foam Snowshoes For Ice Fishing Help Get To Prime Fishing Spots
Early ice is not safe for a truck, ATV, or snowmobile, and walking across the ice with all of your ice fishing gear is hard work. Often you will be lugging a fish house on a sled, an ice auger, your electronics, buckets, heater, ice fishing rods, and other essentials. You can get a harness that will attach like a backpack strap that allows you to pull your ice fishing gear out on the sled easier, but you are still hiking across the ice. Often the ice is covered in several inches of snow that isn't packed down. A pair of foam snowshoes will help you to walk across the lake to the prime ice fishing spot with less effort. There are also cleats on the bottom that make it, so you won't slip on the ice. Foam snowshoes can be worn in place of a pair of ice cleats, which are often worn over boots to help gain traction on ice.
Foam Snowshoes Help Keep Your Feet Warm While Ice Fishing
If you have ever been ice fishing, you know that cold feet are the worst. Once your feet get cold, your body tends to get cold, and then it's only a matter of time before you have to pack up, head in, and warm up. Many who enjoy spending full days sitting on the ice will bring a piece of cardboard or foam to put between their ice fishing boots and the ice to act as a barrier and try to keep their feet warmer. A new option is to wear a pair of foam snowshoes; this extra layer of thick foam will act as a barrier and absolutely keep your feet warmer.
Ice fishermen will often wear extra layers of socks inside their ice fishing boots trying to keep their feet warm. The problem with this is then your boots will be tighter. Too tight boots are guaranteed to lead to frozen feet. If your socks completely fill the boots, there will be no room for air to circulate, and it will just trap the cold against your feet. Try wearing one good pair of wool socks that wick moisture away from your skin and help shield you from cold weather. On top of your socks, you'll want a good pair of winter boots that are meant for sitting in cold weather for long periods of time. These will be different from boots meant for hiking or being active in the cold. You also want these ice fishing boots to be waterproof. When you drill a hole and pull the auger back up, there will be a rush of icy water out of the hole, and your feet will inevitably be close enough to get wet. If your boots aren't waterproof, this water will invade, and your feet will get wet and freeze. Wearing a pair of foam snowshoes will add another layer between your ice fishing boots and that water and help keep your boots from standing directly in freezing cold water.
Snowshoe Accessories Make Great Ice Fishing Accessories
Crescent Moon has a few snowshoe accessories that will double as ice fishing accessories, and they work just as well on the ice as they do in the snow. The headlamp is the perfect accessory when fishing in the dark or inside of a dark ice fishing shelter. The 440 lumens LED-lit headlamp will adjust to fit over your hat and brightly light up whatever is in front of you. You will need a shovel while ice fishing, and the retractable shovel will break down to a portable size that easily stows in your sled with the rest of your gear. Whether you need to shovel an area to sit on the ice or shovel snow to bank your ice fishing house to keep it warm, this retractable shovel will get the job done!
Foam Snowshoes Can Be Used For Other Activities
If You want a piece of ice fishing gear that can carry you into other outdoor winter activities, foam snowshoes are great for Winter adventures. From hunting to geocaching to a nice trail hike on a wintery day, your foam snowshoes will earn their keep and then some. These are just a few activities snowshoers enjoy. Check out our blog section to see some other ways we suggest using your foam snowshoes this winter!
Check out all of our foam snowshoes, aluminum snowshoes and snowshoe accessories.