Posted by Crescent Moon on Jan 9th 2023
Are you considering your first snowshoe outing? Than you should consider getting a pair of trekking poles. They are great for first timers to keep your balance on unsteady trails, as well as expert snowshoers on steeper, rockier paths. Snowshoeing is a fun and exciting way to enjoy winter weather. And best of all you can do it in a way that doesn't involve the costly equipment or the risk of other winter activities like skiing.
You might have a million questions about snowshoeing as a beginner like can you snowshoe on cross-country trails and what kind of shoes should I wear? To get started with snowshoeing, your simply need a sturdy pair of snowshoes and suitable winter clothing. Clearly, you need a coat, hat, and gloves. You'll also likely want to wear multiple layers of clothing to protect yourself from water.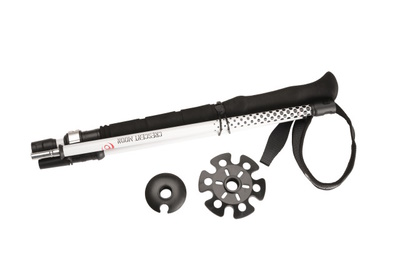 Are Trekking Poles Necessary to Snowshoe?
That leaves only one more decision to make before you set out on your first trip. Do you need poles?
Poles are helpful in snowshoeing, but much like skiing, they're not required. Especially, if you are new to snowshoeing and just getting started. They're even good for people who've been snowshoeing for a long time if the terrain is uneven and steep. Poles help you balance better and remain stable for your own safety. Read on for more information about snowshoe poles and whether they're right for you.
First, What Are Snowshoe Trekking Poles?
Snowshoe poles or trekking poles as they're mostly referred to are much like ski poles. They are long thin poles with stakes at the end to help you maintain your balance while you are snowshoeing. Most poles are adjustable, which can be especially helpful if you're navigating uneven terrain. Shorter poles are usually better for inclines while longer poles are helpful on declines.
Snowshoe poles often have baskets which are useful when the snow is deep. The baskets are at the bottom of the pole just above the tip. They prevent the pole from sinking too deep into the snow. If your poles do not have baskets you may want to avoid snow that is deep. Otherwise, the the poles can get stuck in the snow and may be difficult to remove.
Origin Of Snowshoe Trekking Poles
There's no clear answer on when snowshoe poles were first used, just as there's not a clear sign of when snowshoes were originally invented. There are indications that crude versions of snowshoes were used throughout Central Asia and Scandinavian countries as far back as 6,000 years ago.
However, it would take the discovery of the New World for snowshoes to evolve to something resembling their modern form. French explorers were the first known group to use snowshoes as they explored what is now Canada in the 1600s.
Poles were likely used at that time by both French and Native American explorers. While the poles may have been simply wooden sticks, they served the same purpose as poles do today. They helped the user maintain their balance and navigate tricky terrain.
How to Use Trekking Poles
Snowshoeing poles are best used on uneven terrain. If you're going out on flat terrain, you can probably get by without poles. However, you can still use poles to get an upper body workout and to ensure stability during the trek.
If you're going to be exploring uneven terrain, poles are more of a necessity. On uphill treks, the poles can be planted into the ground in front of you and used to provide support as you pull yourself up. On downhill terrain, they can be used to provide balance. And of course, one of the best uses of poles is for rest. Simply plant them into the ground and lean against them to take breaks throughout your walk. Snowshoeing can be an intense workout so there's nothing wrong with taking a break or two.
Overall, we recommend poles when you snowshoe for a number of reasons. One reason being if you're a beginner and you need to become adjusted to snowshoeing first. Another important reason is to keep you balanced on various types of terrain. Sometimes you never know what you might encounter on an unknown trail.
Shop for top-rated snowshoes at Crescent Moon, featuring aluminum snowshoes and foam snowshoes, with sizes available for all ages! They also supply snowshoe accessories including trekking poles for your next excursion.
Check out all of our foam snowshoes, aluminum snowshoes and snowshoe accessories.