Posted by Crescent Moon on Oct 20th 2020
When buying snowshoes, it can be common to wonder if there is a left and right snowshoes just like with other footwear. If you purchase universal snowshoes, both snowshoes will fit on either your left or right foot. However, it's recommended that the binding buckles are toward the outside of your feet. If snowshoes are designated for a right and left, there will be a mark on the shoe.
Tips for Putting on Snowshoes
At first, snowshoes can be a bit difficult to put on, but with a little practice, it's easy. If you have a new pair of Crescent Moon foam snowshoes, put your boots on and then head to your garage or put some towels down on your living room floor. This way you can practice securing your straps in a warm and dry place so you aren't frustrated when trying to put them on outside when it's cold. Crescent Moon Eva and Luna foam snowshoes use a hook and loop securing system. The Velcro-like material is "military grade" and specifically designed to resist snow and ice buildup.
The next step is to see which ones you have, whether they are universal or if there is a left and right. Once you have this figured out, it's time to shake or wipe the snow off the binding and kick the snow off your boot to make it easy to attach. Place the ball of your foot on the snowshoe centered in the bindings. You don't want to have the foot too far forward. Strap in your toes and heels to the snowshoe and then tighten your instep strap. The straps of your snowshoe should be snug, not too loose or tight. Lastly, tuck any extra strap out of the way of your snowshoes so you can start snowshoeing.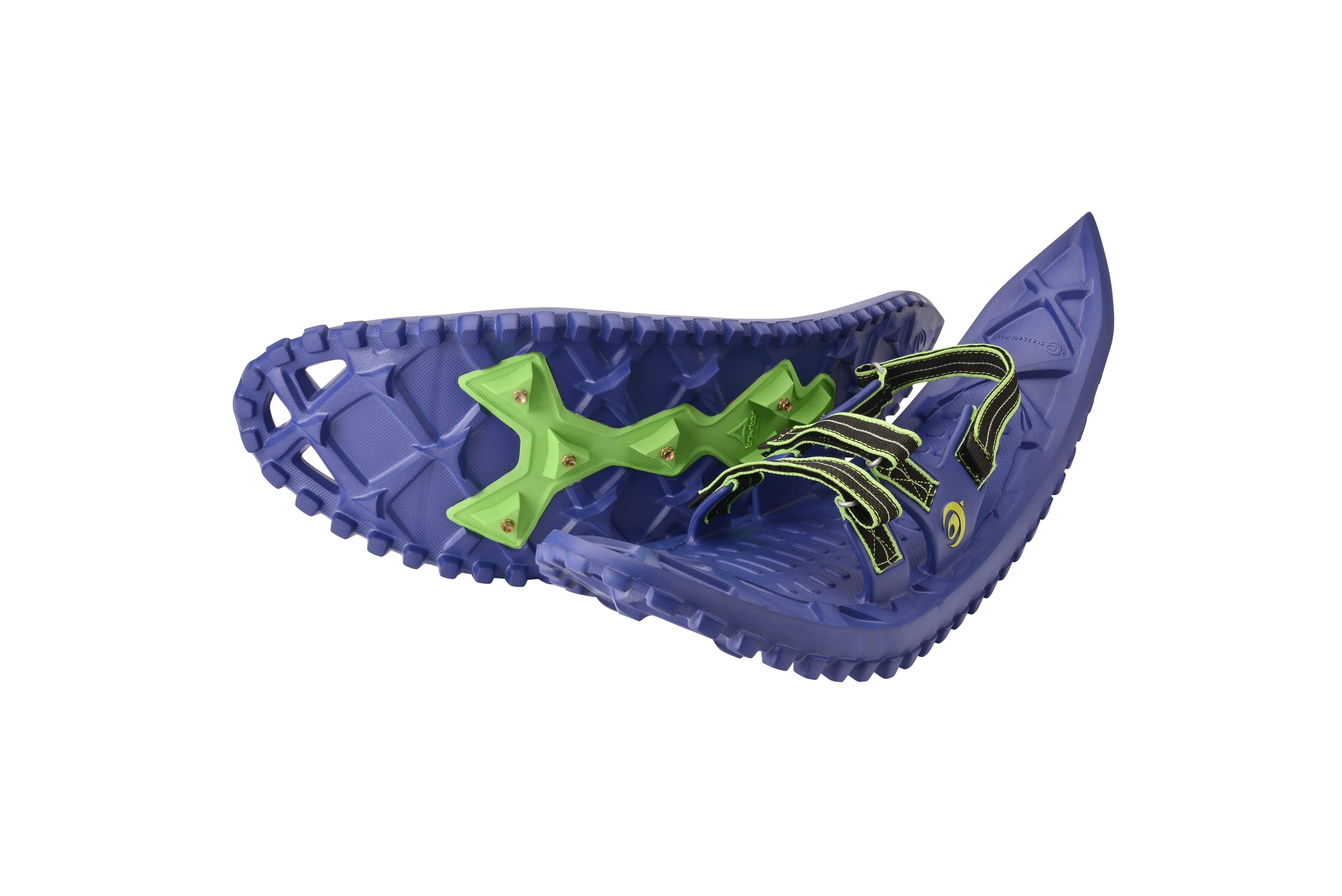 Anatomy of a Snowshoe
There are different parts of a snowshoe and it helps to know the anatomy so you can pick the perfect pair for you and ensure the right fit.
Snowshoe decking:
This is the material that creates the surface area of the shoe and what helps keep you afloat. In an antique pair of snowshoes, the webbing made of rawhide on the wood frame is the decking. Newer versions of snowshoes are constructed of solid sheets of tough, lightweight materials, such as vinyl, foam, or polyurethane coated nylon. Crescent Moon EVA snowshoes are made from foam with a platform that rolls and bends with the foot, just like athletic shoes, for extra comfort.
Snowshoe crampons:
If your snowshoes are designed for back-country trails, there should be crampons or metal teeth. These help sink into the ice and snow and give you improved footing for when you are climbing in your snowshoes. The simplest snowshoes use toe crampons, just under the boot of the foot. EVA snowshoes have durable rubber lugs and you can get optional ice cleats for icy conditions. Metal teeth found under the heel can also be common in some snowshoes.
Snowshoe Bindings:
The snowshoe bindings are used to attach the boots to the snowshoe and to help maintain proper alignment. If the heels aren't centered or the bindings aren't holding your foot then your snowshoes won't track in a straight path. You could be constantly readjusting the fit and won't enjoy the experience. Bindings are important to make the snowshoe work well with your boots. You want simple, secure hook and lock bindings, just like the ones found on the EVA snowshoe.
Snowshoe Frame:
The frame is made of plastic, wood, or lightweight aluminum. There are different shapes. Oval snowshoes give better flotation while shoes with tapered tails can allow for a more natural gait.
Snowshoe Pivot Point:
This is the place where the binding attaches to the frame of the snowshoe. There are two types of attachments. A soft one is when the binding is mounted on a rubbery band and stretches across the snowshoe frame. There is limited or fixed rotation. When you step, the heel lifts and the band then snaps the tail of the snowshoe. This limits the rotation of your foot in the snowshoe. A hard attachment means the binding pivots freely around the ball of your foot to give more lateral support while snowshoeing.
There are some other features of snowshoes you may find. Some snowshoes have length adjustments and get longer or shorter with telescoping decking or the addition of extra tails. Some snowshoes also feature heel lifts as a standard or add-on feature. It's a small bar that lies under the heel of the boot. When you are going up a long ascent, you can flip up the bar to support your foot in a more flat and natural position.
Check out all of our foam snowshoes, aluminum snowshoes and snowshoe accessories.