Posted by Crescent Moon on Nov 19th 2022
Bordering Canada, Vermont is in the heart of snowshoeing country in the Northeast United States. The entire state is covered in beautiful rolling hills and mountains meaning traction can be a necessity. Most of Vermont is high elevation and plenty far North making for cold winter temperatures, so be sure to check the weather forecast before leaving home. Warm winter gloves and hats are important to keep your extremities warm until the natural act of snowshoeing warms you naturally.
The good news is that snow is aplenty and it stays cool enough in Vermont that you can snowshoe virtually anywhere you can hike in the summer! In addition, publicly accessible land abounds and many locations exist where private landowners give public free access to winter trails. All trails below don't require an entry fee and are free to enjoy!
Early and late in the winter season season, (around early December and March), warmer, sunny days above freezing coupled with cold nights can lead to icy conditions. This is where trekking poles can come in handy. Check out our lineup here if you're in need of some. With four contact points with the ground instead of just two, slipping and falling becomes a thing of the past.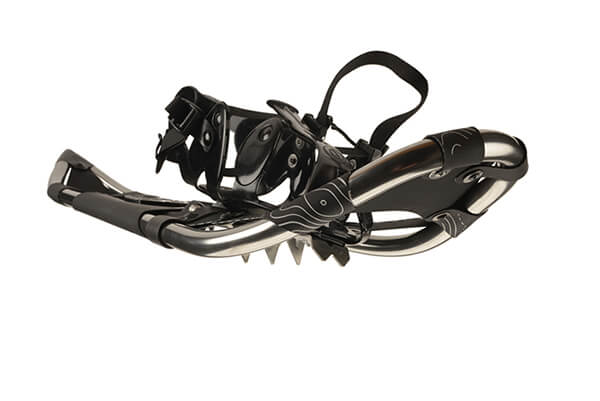 For icy conditions and rolling terrain around the whole state, the Sawtooth 27 (fka Gold 9) All-Terrain Snowshoe can't be beat for users up to 195 lbs. Great for men and women alike, this workhorse snowshoe can do it all. For off-trail use, consider our backcountry series for men and women.
LAMOILE VALLEY RAIL TRAIL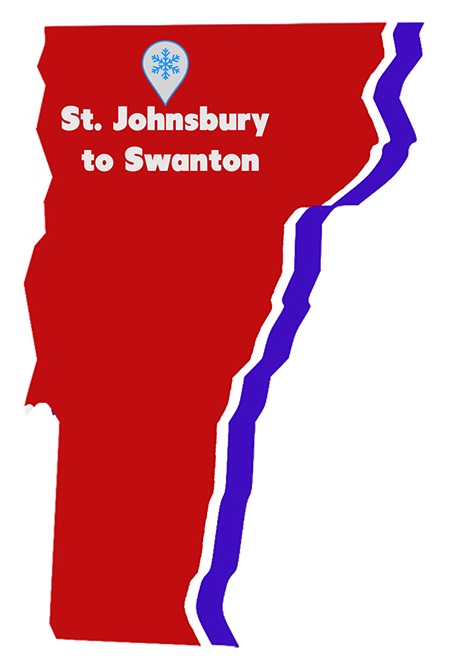 Location: North
Difficulty: Easy
Length: Up to 93 miles one-way
Entry Fee: Free
Pets allowed? Yes (must be on leash)
Spanning 5 counties, 18 towns and 93 miles, it would take a truly dedicated snowshoer to cover this former railroad line along the Lamoile River connecting St. Johnsbury to Swanton. Trail parking is available throughout the length of the rail trail, which averages 10 feet wide. The trail averages 10 feet wide and other than snowmobiles, non-motorized use only. Dog sledding is common and may be encountered if you're lucky!
Located in extreme Northern Vermont, snow cover shouldn't be an issue by early December. Be sure to check local conditions before embarking on your adventure.
Since it's a previous rail line, elevation gain is very minimal, and hard-packed conditions are common. It would be hard to draw up a better trail than this for a foam snowshoe – just hook, loop and off you go!
FIVE TREE COUNTRY PARK
Location: North
Difficulty: Easy
Length: 1.25 Miles One-Way (2.5 miles total)
Entry Fee: Free
Pets Allowed? Yes (must be under voice control)
For a great family-friendly winter hike Five Tree Hill Park rewards the little ones with a beautiful panoramic view of the Champlain Valley. The trail is flat other than the final 200 yards to the overlook. Bikes aren't allowed, only cross-country skiing and snowshoeing. Be mindful of staying near the trails as private property is scattered about the area. A great way to introduce your children to snowshoeing would be to start them young with our kids foam snowshoes that can fit a variety of children shoe sizes due to the unique binding system that is highly adjustable (fits 11Y, 13Y and 5SZ).
HARTLAND WINTER TRAILS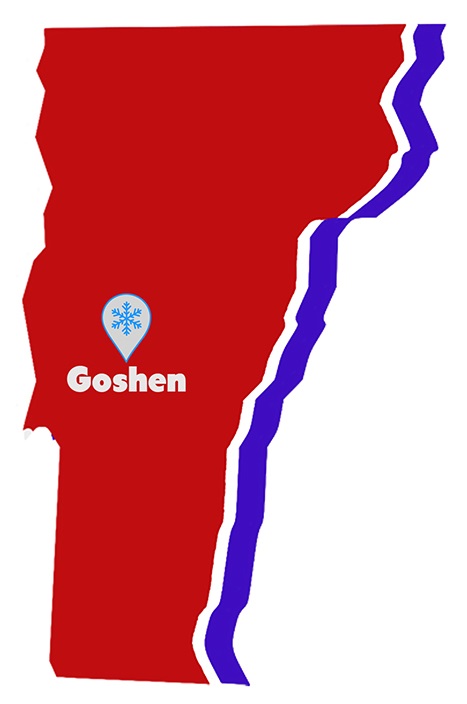 Location: Central
Length: Up to 16 Miles (choose your adventure)
Difficulty: Easy/Intermediate/Hard
Entry Fee: Free
Pets allowed? Yes (must be on leash and stay off prepared tracks)
Thanks to the generous landowners and local volunteers around Hartland, this trail system that meanders through classic New England fields and back woods is popular for cross-country skiing and snowshoeing. To keep the trail system peaceful, snowmobiles, ATVs, horses and dog teams aren't allowed. Dogs are allowed, but must be kept on leash and off of the prepared tracks. In order to ensure the future of the trial system, please follow common snowshoe etiquette, such as staying off to the side of the trails as to not disrupt cross country ski tracks.
BLUEBERRY HILL OUTDOOR CENTER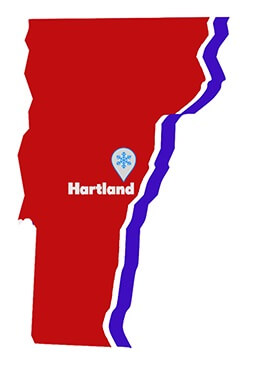 Location: Central-East
Length: Various (choose your adventure)
Difficulty: Easy to Intermediate
Entry Fee: Free
Pets Allowed? Yes (follow leash guidelines)
All of the trails here are open to snowshoeing, and off-trial snowshoeing is permitted for those wanting to break their own trail or put their Crescent Moon Men's Backcountry or Women's Backcountry snowshoes to use. Although there isn't a fee to use trails here, consider donating $5-$10 after your visit to help support the trail system. If you are looking to test out your new snowshoes or start easy, the Beginner's Loop is a winter use only trail that's 3 miles long and very flat. If you have children with you, check out the Beaver Dam Loop that is full of beaver ponds and a quick hike. For something a little more challenging, Hogback Loop is 2.8 miles that loops around Hogback Mountain. Various unmarked trails are available to summit the mountain for a great view.
GROUT POND LOOP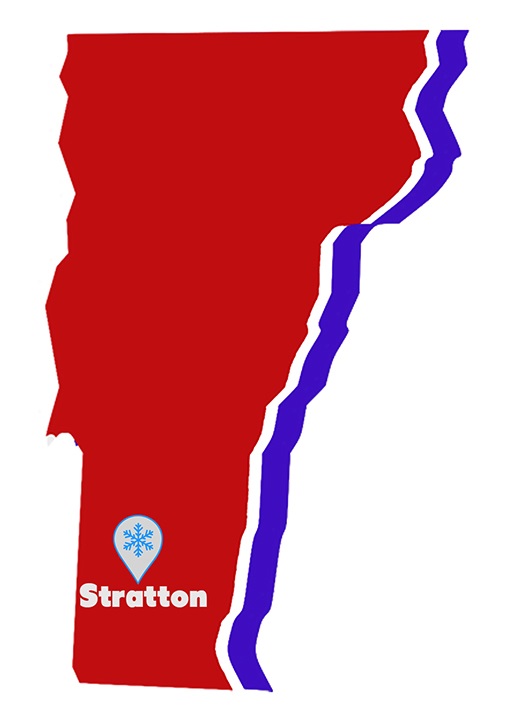 Location: South
Length: 2.7 Miles
Difficulty: Easy
Entry Fee: Free
Pets allowed? Yes (must be on leash)
A very peaceful and quiet trail that surrounds Grout Pond – a high elevation pond in the Green Mountain National Forest near the town of Stratton that is about 30 feet deep. Those interested in ice-fishing could couple their trip to chase the abundant perch located in the spring-fed pond. As for snowshoeing, blue diamonds mark the trail that surrounds the entirety of the pond. The winter parking lot is on the Stratton-Arlington road and finding a spot should be easy. The mellow trail takes about two hours to complete if you take your time enjoying the serenity.
Vermont Snowshoeing on Crescent Moons
From the Champlaign Valley in the Northwest corner down to the Green Mountain National Forest in the far Southwest corner, snowshoers have wondered at just about every turn in one of New England's prettiest state. With Crescent Moon, you've got the home run gear to experience this unique northern realm in style. Our Eva and Luna foam snowshoes are a sheer joy to use, what with their couldn't-be-simpler (and couldn't-be-snugger) hook-and-loop bindings and their rocker platform facilitating ultra-natural foot movement and feel. Rubber lugs and ice spikes offer secure traction.
In deep snows or steep terrain, consider our Crescent Moon aluminum snowshoes: incredibly tough and durable, yet also lightweight, and laying claim to the only three-claw crampon system out there.
Whatever snowshoe model you choose, you're tapping into some of the most innovative and well-respected snowshoe technology on the market: just what the doctor ordered for a Vermont adventure of a lifetime!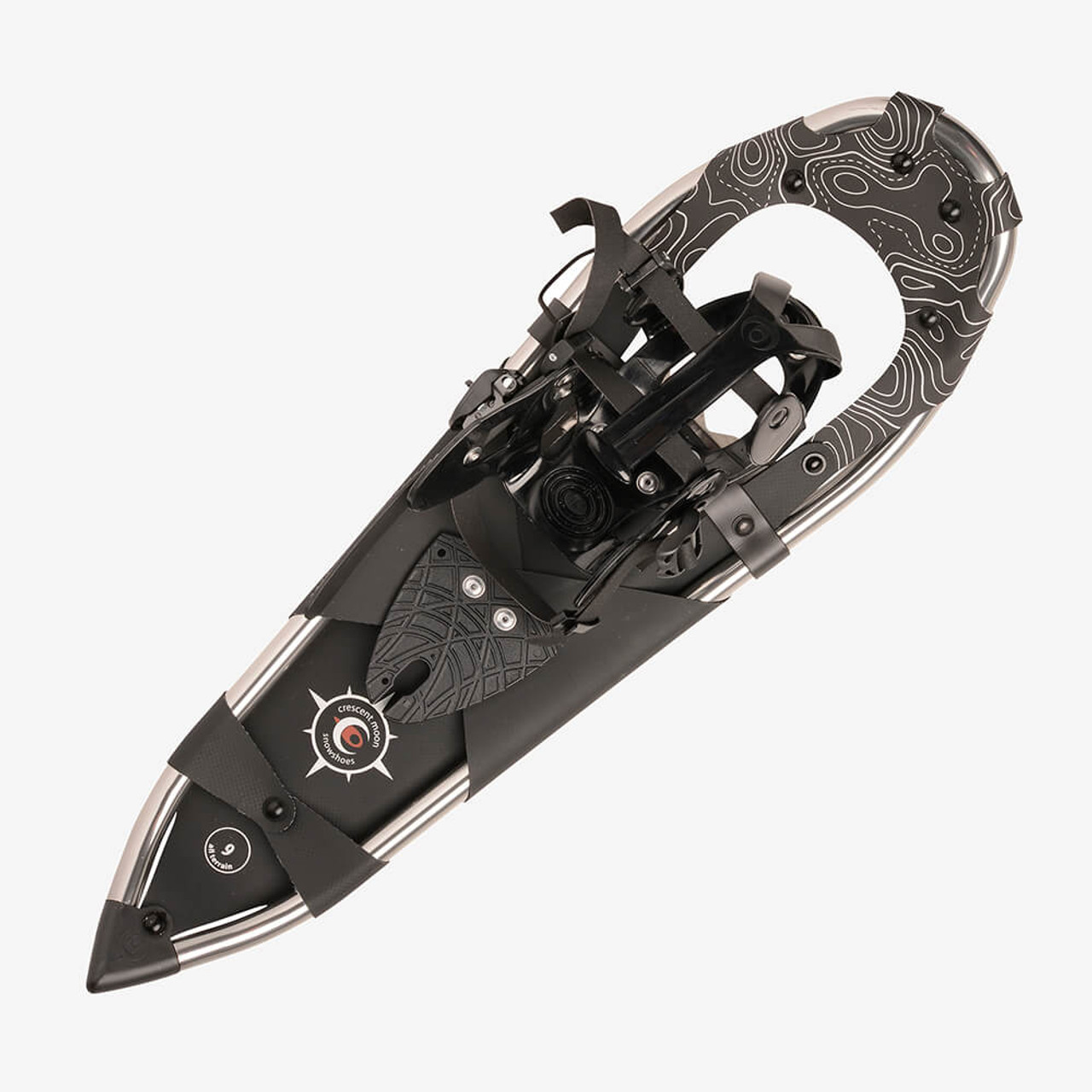 No matter where you find yourself snowshoeing in Vermont, you're sure to have a great time if you dress appropriately and follow local rules and guidelines. Be sure to do your own research before embarking on any journey, and feel free to reach out to the Crescent Moon team with any questions on gear recommendations!
Check out all of our foam snowshoes, aluminum snowshoes and snowshoe accessories.