Posted by Crescent Moon on Nov 19th 2022
Not every great outdoor adventure requires a death-defying adrenaline rush. Snowshoeing is an outdoor adventure that will call upon your physical strength in a calm and environmentally non-intrusive way. All you need is to dress up warm and have a good pair of snowshoes, then you're ready for these top spots we've found for you. France is home to some of the best snowshoeing tours, hikes, and walks in the world. This quick guide will introduce you to some of the best places to go snowshoeing in France and a few tips on preparing for your trip.

5 Best Places to Snowshoe in France
Before planning your snowshoeing trip, ensure you have all the necessary gear like quality snowshoes that are lightweight and can handle various terrain types. Of course, it is important to think about what type of trip you want. Snowshoeing, like hiking, has many different proficiency and strength levels. If you are a true beginner or someone with physical limitations, it is very important that you research your snowshoeing tour carefully to ensure that you are physically up to the challenge. Although snowshoeing is not as physically demanding as some types of outdoor activities, it is still a physical activity.
Some snowshoe adventures may require more uphill walking than others. Some will be longer than others. So, if you intend to plan your trip with a guide, make sure you get all of the info on length and difficulty first.
France is home to the beautiful French Alps, which provide perfect locations for snowshoeing. Here you can find simple half day walks or more extensive multi-day trips. Let's take a look at some of the best places in France for snowshoeing.
Chamonix Valley
Chamonix Valley provides some incredible mountain views as well as a peaceful atmosphere perfect for an easy introduction to snowshoeing. This is also a great spot if you plan to incorporate photography in your trip as well. You will be able to capture breathtaking mountain vistas from the valley.
Val D'Abondance
Val D'Abondance is mostly known for spectacular ski resorts, but if you are looking for a slower paced outing, you will also find great opportunities for snowshoeing. Located in the Portes du Soleil, beautiful snowy vistas abound.
Vanoise National Park
Vanoise was one of the first French national parks created in 1963. Here you will find La Clusaz- Plateau de Beauregard. This breathtaking Nordic ski plateau is home to the abundant wildlife that you will encounter on your snowshoeing tour. It also offers amazing panoramic views for photos. This is also a great place for beginners to get gently acquainted with snowshoeing.
Pralognan La Vanoise
Home to impressive Alpine ice caps, this location is also a great snowshoeing spot. Located in Ecrins National Park, here you will find three great snowshoeing locations: Serre Chevalier, Alpe d'Huez, and Orcieres. These locations offer different difficulty levels, sure to suit any type of snowshoe enthusiast.
Queyras
This snowshoe destination is located in the Parc Naturel Regional du Queyras. Here you will find both mountainous and flat terrain to suit different snowshoe adventures.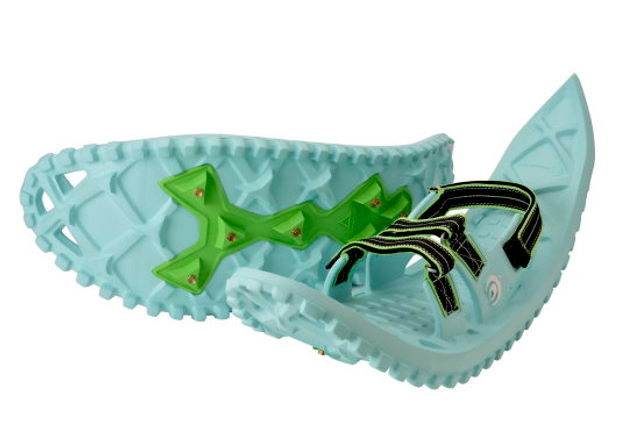 Snowshoe Tips for France
If this is the first time you are heading out to snowshoe, there are few things you should keep in mind.
Choose shoes carefully- When shopping for snowshoes it is imperative that you pick shoes that are right for your weight and the terrain you will be visiting.
Warm, waterproof boots- Almost as important as the snowshoes themselves, will be your boots.
Dress in layers- Don't let the sunshine fool you. The French Alps are cold and you will need the proper clothing for the wet, cold conditions.
France is a gorgeous country filled with historic landmarks, the best cuisine, and breathtaking views along their countryside - perfect for snowshoeing! The entire family can enjoy these adventurous trails as long as you have a top-rated pair of snowshoes like the styles carried by Crescent Moon.
Shop Crescent Moon for a wide selection of aluminum snowshoes, foam snowshoes, kids snowshoes, and snowshoe accessories!
Check out all of our foam snowshoes, aluminum snowshoes and snowshoe accessories.