Posted by Crescent Moon on Nov 19th 2022
Hands down, Canada provides the most amazing routes for snowshoeing. When it comes to locations for a Canadian vacation focused on snowshoeing, you have several options. You may find recommendations for fantastic snowshoeing places across the country in blogs, magazines, brochures, TV ads, and even snowshoes!
5 Best Places to Snowshoe in Canada
However, in this post, we wanted to specifically highlight five areas and specific locales that offer a very wide range of snowshoeing options and resources. Here are our picks for the best places to snowshoe in Canada.
Riding Mountain Biosphere Reserve
One of Manitoba's natural gems is the Riding Mountain Biosphere Reserve, which is made up of the surrounding countryside and settlements and is supported by Riding Mountain National Park. With its closeness to huge farming flats as well as the gathering spot for the grassland, temperate evergreen forest, plus taiga, Riding Mountain as well as the Manitoba Escarpment create a highland environment that feels simply mystical. In addition, this is an excellent location for snowshoeing.
There are about 80 miles of winter hiking trails around Riding Mountain National Park, such as North Escarpment trails and Arrowhead. Of course, one could also go cross-country skiing, enjoying the deep snowfall and the opportunity to search for animal trails like elk, red foxes, and wolves. You'll want to wear a good quality pair of lightweight snowshoes from top-rated retailers such as Crescent Moon to venture these trails.
Algonquin Provincial Park
The approximately 3,000 square miles of lakes as well as deciduous woods that make up Algonquin in Ontario's southeast are every bit as alluring in the winter as they are in the summer. Also, it's all only a short distance from Toronto. Seeking nearby snowshoeing routes, Algonquin is among the nicest areas in the province for snowshoeing. Hike the Logging Museum Trail to stroll past a caboose camp as well as a steam-powered tugboat.
On this 1.3-kilometer walk, you may get both narrative and a good workout. The abandoned Railway Trail offers a lengthier, 16-kilometer hike for those desiring more seclusion. Despite being lengthier, it is simple for kids to navigate due to its solidly packed road and generally flat walking surface.
This track is great for snowshoeing with the whole household. Check out boreal black-backed woodpeckers. You can get easy access to the park from the usually plowed Highway 60.
Gatineau Park
Take a trail map from Gatineau Park to find some of the best places to go snowshoeing. One of North America's largest snowshoeing networks can be found in this park. The paths in Gatineau Park are close to Ottawa's downtown. There are 60 kilometers of paths here, ranging in difficulty. It is possible to access Trails 60 and 61 from the visitor center.
The park's two shortest and easiest pathways are ideal for families with young children. This area is safe for snowshoeing because there are outhouses, picnic tables, and fire pits accessible at daytime shelters. Try the trails at Wakefield and Meech Lake if you prefer more difficult snowshoeing options.
Kootenay Park
Talk about breathtakingly beautiful and that's what you'll come upon when you enter this scenic trail. Due to its reputation for receiving a lot of snow each year, Kootenay National Park is a great place to go snowshoeing. The Paint Pots Trail is among the most beautiful and enjoyable winter hiking routes in the Park.
Through the mountains and across the frozen Vermilion River, that trail leads snowshoers to a group of orange-tinted ponds that are all-natural. The concentration of iron oxide in the region is what contributes to the ponds' hue. There's a good chance you'll run into some moose on the route to the Paint Pots because the landscape there is primarily flat.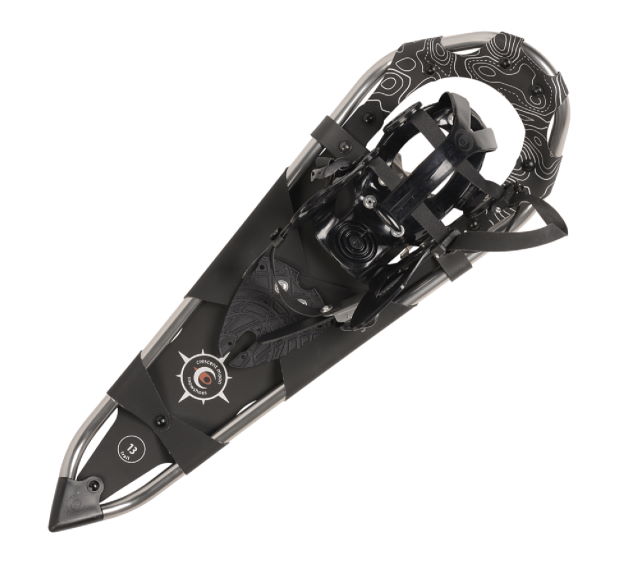 Whistler
If scenery is what you're after, snowshoeing through Whistler is the way to go.
Few people are aware that while it is one of the top ski resorts in Canada, it is also a great site to learn snowshoeing. You could enjoy the peace of the woods and the rhythm of the snowshoes upon that powder thanks to the wide variety of terrain designated specifically for snowshoeing. Explore the Rainbow Falls trail for a quick, simple hike that is also beautiful. This well-traveled path leads to the ice Rainbow Falls' bottom, where you may enjoy an incredible wintertime panorama. The Ski Callaghan along with the Whistler Olympic Park features more than 30 kilometers of terrain with different loops if you're up for the effort.
Of course, Canada has a lot more to offer than snow-related activities but they happen to have some of the best spots to hike or snowshoe while you're there.
Shop the best snowshoes available on the market today at Crescent Moon, available in all sizes, for beginners to expert-level adventurists!
Check out all of our foam snowshoes, aluminum snowshoes and snowshoe accessories.